Champaign, Illinois (March 10, 2021) — Fifth generation Illinois farmer Will Glazik was named the inaugural recipient of the Glen "GB" Brandt Prize for Ag Entrepreneurism, an award that honors an individual who exemplifies an entrepreneurial spirit and advances innovation through their business practices.
The award was presented at the 2021 AgTech Innovation Summit, hosted by the University of Illinois Research Park.
Glazik's nominations highlighted these qualities as a farmer, researcher, public speaker, distillery owner, and entrepreneur. 
"Will is blazing a trail for a new generation of farmers in Illinois who want to be active managers and marketers for a diverse array of products," said nominator Dr. Adam Davis,  head of the Department of Crop Sciences in the UI College of ACES.  "He is creative and fearless in trying out new innovations in production methods, marketing and new product creation. He is generous with sharing his knowledge, reaching and teaching hundreds of other growers through his work with the IDEA Farm Network."
The Glen "GB" Brandt Prize for Ag Entrepreneurism was established in 2021 in honor of Glen "GB" Brandt, a legendary figure in the field of Illinois agriculture, who passed away in late 2020. The BRANDT Foundation partnered with the University of Illinois to provide the winner a $10,000 prize. 
"The business community lost a real entrepreneur when GB passed away," said Rick Brandt, President and CEO of BRANDT and GB's son. "GB was a visionary; he took calculated business risks; he wasn't afraid to try something new. He brought new ideas and new technologies to our customers, oftentimes when others were actively saying it couldn't be done. We are establishing this prize to honor his legacy and provide the capital to help other budding entrepreneurs see their ideas come to life."
Glazik manages Cow Creek Organics Farms in Paxton, Ill., where he has diversified the farming system, moving from producing grain to an integrated crop-livestock operation selling high-quality organic meats, grains, and seeds. His business ventures use modern technology to innovate more efficient processes and minimize the carbon footprint of farming, with the end goal of all being carbon negative.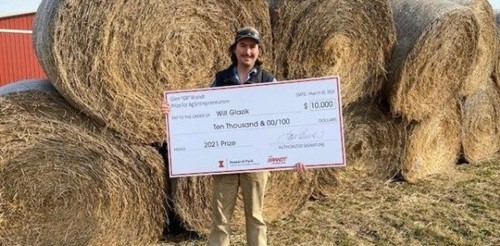 Together with his two brothers Clayton and Dallas, the family founded Silver Tree Beer and Spirits in 2017. Silver Tree is a carbon-negative farm distillery taking the organic grains they grow on their home farm to distill into spirits. 
Silver Tree Spirits is currently working with the Integrated Bioprocessing Research Lab to research flavor profiles in bourbon.
"I am honored and very excited to be awarded this grant," Glazik said. "It comes at a very exciting time as our farm diversifies, and Silver Tree is transitioning from having our grain custom distilled, to now owning our own still, and will soon be doing everything in Paxton. "
Glazik also helped co-found the IDEA Farm Network, a peer-to-peer information exchange network for farmers in Illinois and beyond interested in innovative farm management that balances productivity, profitability and environmental health. The group is active through online discussion groups, webinars and on-farm field days. It has blossomed from 45 people to more than 400 members across the Midwest.
A proud alumnus from the University of Illinois College of ACES, Glazik graduated in 2013 with a degree in crop science.