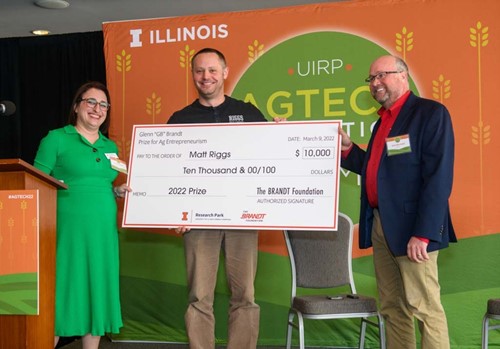 Champaign, Illinois (March 10, 2022) —  Matt Riggs of Riggs Beer Company has been named the recipient of this year's Glen "GB" Brandt Prize for Ag Entrepreneurism, an award that honors a grower/producer/farmer who exemplifies an entrepreneurial spirit and advances innovation through their business practices. 
Riggs' nomination highlighted these qualities as a farmer, brewery owner, and entrepreneur.
"Faced with the challenge of preserving his family's 142 year old farming legacy, Matt successfully created a brand new, high-margin market," wrote Riggs' nominator, Prof. Adam Davis, a faculty member in the department of Crop Sciences. "Since founding his brewery in 2016, his farm and brewery have vertically integrated over 155,000 pounds of brewing grain, making them the Midwest's #1 volume "grain to glass" brewery."
The award was announced at the 2022 AgTech Innovation Summit, hosted by the University of Illinois Research Park. It was presented to Riggs by Karl Barnhart, Chief Marketing Officer of BRANDT. 
Riggs said he will use the award's $10,000 prize to buy the farm its own grain cleaner, equipment the farm has either contracted or leased previously.
"The past two years have reinforced the importance of being both flexible and lean. Small farms, and small businesses in general, can remain competitive if they are able to rapidly adapt to change. They can also compete against larger competitors if they have extremely limited fixed costs," said Riggs.
Matt graduated from the University of Illinois with a bachelor's degree in Technical System Management in 2006. His company supports the University's crop science program by purchasing specialty, University-licensed wheat and corn seed. His company is currently donating the use of farmland for a small brewing grains test plot located at his brewery in Urbana.  Learn more about Riggs Beer Company here.
The Glen "GB" Brandt Prize for Ag Entrepreneurism was established in 2021 in honor of Glen "GB" Brandt, a legendary figure in the field of Illinois agriculture, who passed away in late 2020. The BRANDT Foundation partnered with the University of Illinois to provide the winner a $10,000 prize.
The award's first winner was Will Glazik, a farmer in Paxton.