Champaign, Illinois (March 7, 2023) — Eric Miller has been named the recipient of this year's Glen "GB" Brandt Prize for Ag Entrepreneurism, an award that honors a grower/producer/farmer who exemplifies an entrepreneurial spirit and advances innovation through their business practices.
Miller farms 400 acres in Piatt County, where he works extensively with University of Illinois researchers.
"Eric is passionate about conserving and efficiently using the resources that make Illinois agriculture so productive and envied. He's not only given University of Illinois staff access to his entire farm, but for a sufficient period that allows longitudinal studies. This scale and timeframe help identify much more predictable and repeatable 'proof of concept' outcomes," said his nominator, Daniel Schaefer, Director of Nutrient Stewardship at the Illinois Fertilizer and Chemical Association.
The award was announced at the 2023 AgTech Innovation Summit, hosted by the University of Illinois Research Park.
Karl Barnhart, Chief Marketing Officer of BRANDT, presented the award to Miller.
"Eric is exactly the kind of grower we envisioned that the GB Prize could support when we established it three years ago," said Barnhart. "Just like Glen Brandt, Eric is a real entrepreneur in the field of production agriculture. On behalf of The BRANDT Foundation, congratulations, Eric."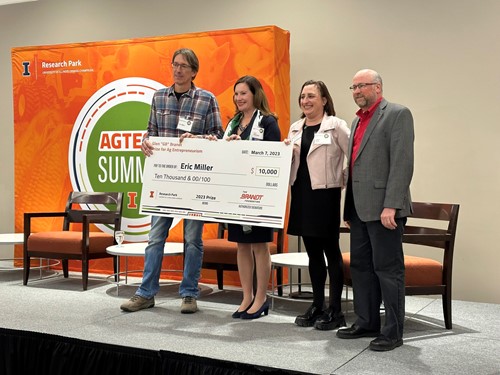 Miller said he hopes partner with BRANDT as he deploys the award's $10,000 prize. He recently entered an agreement to expand his farm's facilities.
Miller has assisted the University of Illinois with large-scale on-farm research since 2014. During the past eight years, Miller has transitioned his Central Illinois farm into a dedicated crop production improvement site.
He performs field operations and collects data per the requirements of projects that are assigned to the farm. The goal is to develop strategies that simultaneously improve yield, environmental and economic outcomes.
This crop improvement site is helping to define the future of Illinois agriculture. Some examples of testing that is taking place at the site include long-term monitoring of soil carbon, greenhouse gas emissions, various soil health metrics and yield.
The Glen "GB" Brandt Prize for Ag Entrepreneurism was established in 2021 in honor of Glen "GB" Brandt, a legendary figure in the field of Illinois agriculture, who passed away in late 2020. The BRANDT Foundation partnered with the University of Illinois to provide the winner a $10,000 prize.
Previous Glen "GB" Brandt Prize for Ag Entrepreneurism winners include: