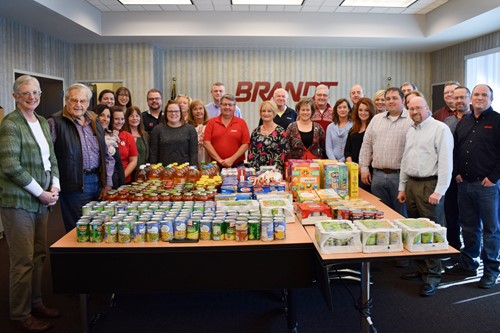 Competition for a Cause
This past holiday season we asked the BRANDT employees to participate in a friendly competition to help raise food and monetary donations for local food banks… And it worked!
Together, the BRANDT Foundation and BRANDT employees raised over $33,000 and brought in thousands of food items all for donation.
The Rules
We split the employees into three different regions and connected them with a local food bank where BRANDT does business.
West Region – Central California Food Bank
Central Region – Central Illinois Food Bank
East Region – Farmers Feeding Florida
Each dollar donated and each nonperishable food item was worth one point. At the end of the food drive, we calculated which region had the most points and divided it by the number of employees. The region with the most points/employee was crowned the winner.
On top of that, the BRANDT Foundation seeded each region with $1,000 to start AND matched monetary donations up to $5,000. The winner was also given an additional $500 to donate to their local food bank.
The Totals
Western US Region – 60 points/employee
Food donation points: 2,341
Monetary donations: $5,065
Seed money: $1,000
Matching: $5,000
Total: $16,065
Central Region: 37 points/employee
Food donation points: 3,619
Monetary donations: $6,760
Seed money: $1,000
Matching: $5,000
Total: $12,760
Eastern Region: 50 points/employee
Food donation points: 209
Monetary donations: $1,690
Seed money: $1,000
Matching: $1,609
Total: $4,380
TOTAL DONATIONS: $33,205
"We continue to do good work through The BRANDT Foundation," said Rick Brandt, President & CEO of BRANDT. "The Feeding Frenzy was the perfect example of TEAM BRANDT coming together to raise much needed funds for the less fortunate in our own communities. It's just staggering that there are food insecure where we are blessed with the most productive food system in the world."