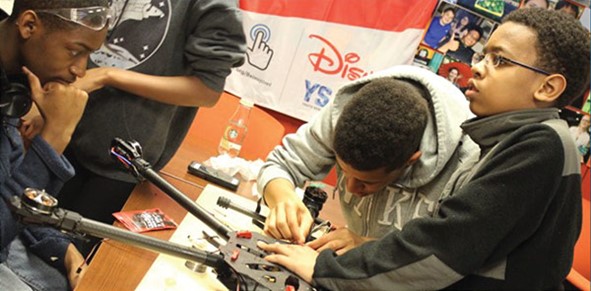 Agriculture technology
The field of precision farming is expected to grow to a $10.23 billion market by 2025. As with many STEM (Science, Technology, Engineering and Math) fields, there is expected to be a huge shortage of skilled and knowledgeable precision agriculture specialists/candidates to occupy these jobs.
Illinois 4-H recognizes this need and has been a leader in introducing and allowing youth to explore these professions through experiential learning and "learn by doing." In the case of precision agriculture, Illinois 4-H is introducing this field to youth using Unmanned Aerial Vehicles/Systems and drone-based platforms.
The Ag Tech program has helped to support this growing need by developing a 2-part curriculum and digital material that enables youth to learn the fundamentals of not just UAV flight mechanics and operation, but also precision agriculture.
Part 1 teaches youth the basics of UAV, as well as the laws/regulations surrounding drone use.
Part 2 focuses on UAV applications surrounding precision agriculture and commercial drone use. This includes instruction on aerial mapping, crop monitoring, 3-D rendering, and advanced instrument use (NDVI/ IR camera use and image processing).
The first club of 4-H members using the new curriculum built a hexicopter capable of lifting 40 pounds. Fifteen youth from Springfield learned to build, code and fly the drone. The drone is capable of generating images and completing 2-D and 3-D mapping, as well as taking 360-degree video that can be used to generate virtual reality experiences.
The funding for this project has provided Illinois 4-H youth with many resources that will help build, and in part, sustain the growing drone program. This year we were able to purchase 30 micro drones that have been used all over the state to get youth excited and interested in the curriculum. Our current work has been shared with drone and ag professionals at conferences in Bloomington, Champaign, and Chicago.
Starting in December 2018, more than 120 youth in 4-H drone clubs across five states will pilot the new curriculum. Upon piloting and revising, we expect this curriculum to impact lives of thousands of youth in the first year. While we are still in the beginning stages of our ag tech goals, by partnering with The BRANDT Foundation, we will continue our work and look forward to sharing the resources we build.